TOKYO – Coffee culture is the newest craze in Tokyo. This fashion forward modern city is now brewing some of the best caffeine cups in the world. Award-winning baristas, top class coffee beans, sumptuous concoctions – Tokyo is indeed a dreamscape for java enthusiasts. But what if I tell you that most coffee shops in Tokyo don't have a furniture?
Aside from energizing cups of morning goodness, what makes coffee shops in Tokyo interesting are their Zen-On-Steroids designs. From modest equipment to almost bare spaces, these minimalist coffee shops in Tokyo proves that less is definitely more! The #7 though got me thinking where would I seat!
Minimalist Coffee Shops in Tokyo
Café Kitsuné
Located in Aoyama District, Café Kitsuné is a coffee shop & boutique combined as one. Although French in origin, it features traditional Japanese aesthetics with tenugui print wallpaper and sliding doors.
PNB Coffee
Airy interior, huge bare walls, minimal seating and clean lines; a thing that only PNB Coffee can pull off wonderfully. Located in Aobadai District, this Scandinavian coffee shop is indeed simple on all angles.
About Life Coffee Brewers
Continuing on these minimalist coffee shops in Tokyo is this tiny kiosk in Shibuya Station. The About Life Coffee Brewers doesn't have the bells and whistles of your average coffee shop but their drinks rocks.
4/4 Seasons Coffee
With its contrasting white walls & bare minimal furnishings is a coffee shop named 4/4 Seasons Coffee. Situated in Shinjuku, this shop is famous for their expertly pulled espresso and sumptuous pastries.
Fuglen
Featuring Norwegian decors and basic wood furniture, Fuglen is an Oslo import coffee shop located in Shibuya District. Aside from serving hot cups, at night the relaxing coffee bar turns into a boozy haven.
Toranomon Koffee
Included on these minimalist coffee shops in Tokyo is the Toranomon Koffee. Situated in Minato-ku, the Japanese inspired tatami rooms & unfinished look of this shop makes the ambiance feel truly modest.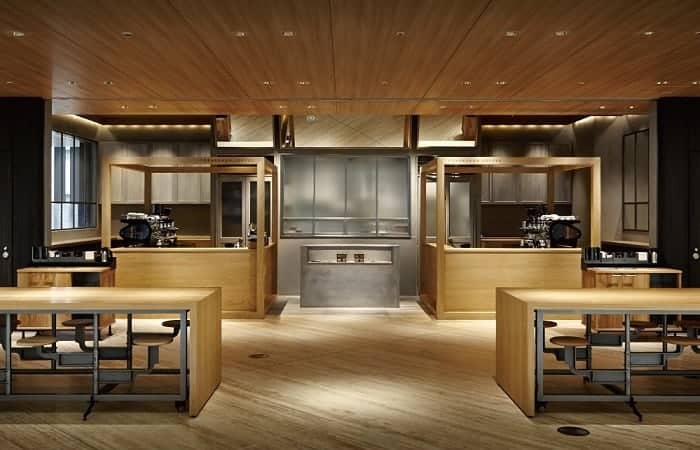 Saturdays Daikanyama
Inspired by New York's apparel shop & café, Saturdays Daikanyama speaks contemporary design with utmost minimalism. With very minimal seats, the coffee counter itself is just a block of plain concrete.
Wow… these minimalist coffee shops in Tokyo are truly rocking in terms of design. Who would have thought that having less furniture and accent decors can actually make a space look more stunning and exceptional! Do you like the aesthetics of these Tokyo coffee shops? Let us know in the comments section below.